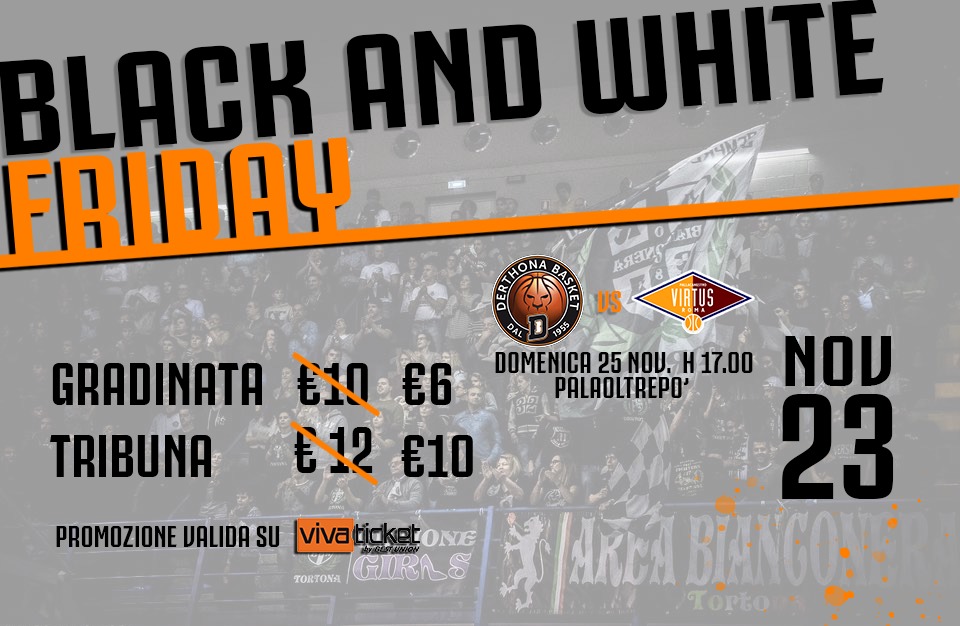 'Black and White Friday' bianconero: biglietti online a prezzo scontato per la gara con Roma
Un'iniziativa accattivante pensata per i tifosi del Derthona: in occasione del Black Friday, venerdì 23 novembre, la società ha voluto dedicare una promozione apposita a tutti i suoi supporters. Si tratta del "Black and White Friday", un'offerta valida per l'acquisto dei biglietti online per la gara contro la Virtus Roma, in programma domenica 25 novembre alle ore 17.00 al PalaOltrepò di Voghera.
Per comprare i biglietti a prezzo agevolato nella giornata di venerdì bisognerà recarsi sul sito di Vivaticket, al link: https://www.vivaticket.it/ita/event/bertram-derthona-vs-virtus-roma/118295. I tifosi bianconeri potranno acquistare i tagliandi in gradinata al costo di 6 € e in tribuna al costo di 10 € solo nella giornata di venerdì, usufruendo dell'apposita "Promo Black Friday" presente sul sito di Vivaticket dalle 9 alle 24 del 23 novembre.